Bathroom Remodeling Solutions in Chatham, Springfield and Surrounding Areas in Illinois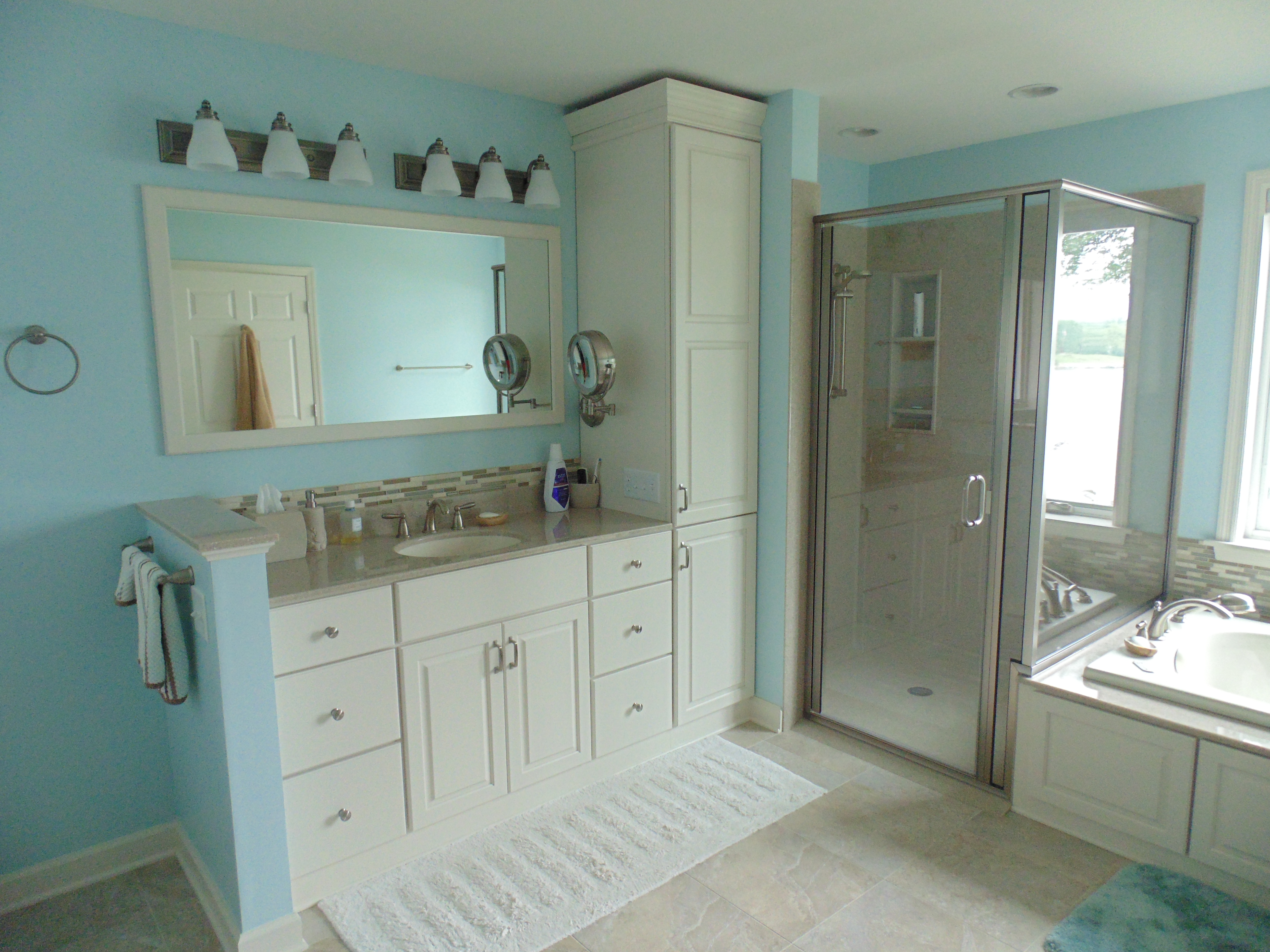 A bathroom remodeling job can include a simple upgrade like installing a new sink or a complete makeover.
We can handle all your bathroom design and bathroom remodeling needs
Bathroom remodels add beauty and value to a home while allowing you the opportunity to install upgrades that help save on essential costs like water and electricity. At Sutton's, we provide assistance for all types of bathroom remodel projects, both big and small.
Whether it's a master bathroom, half bath, or charming powder room, the possibilities are endless when it comes to attractive and functional bathroom design.
We offer free design consultations and estimates in Springfield, Chatham, Sherman and throughout our entire Illinois service area. Call us at 1-844-725-3375 today or contact us online to get started!

Perks of upgrading a bathroom
Bathroom renovation projects not only improve the aesthetics of a home but can also offer numerous other benefits. During a remodel, problems such as plumbing issues, mold and mildew growth, and outdated design styles can be remedied to create a more efficient space that better reflects your personal style. Bathroom remodels can also boost the value of your home by making it more modern.
A bathroom remodel can be a major undertaking that is best left up to the professionals. Whether you want easy-to-clean tile flooring, new contemporary fixtures, installation of glass shower doors, or the replacement of wiring and outlets to accommodate more electronics, we're equipped to handle all aspects of your renovation project.
Complete remodeling services for all your needs
Remodeling your bathroom can range from simple cosmetic upgrades to a complete overhaul that redesigns the layout and function. Sutton's can help you find the perfect solution for your needs and give you a custom design that meets all your goals. Our remodeling services include:
No matter what design ideas you have, we can turn them into reality.
Tub to shower conversions: Traditional bathtubs are unnecessary for many people, and converting to a shower often provides better function and appearance. We can cut your existing tub apron or replace it with a shower base to give you a full-size shower.
Bathroom vanities: Finding the right vanity for your bathroom is essential to any remodel. Whether you want a single, double, or custom vanity, we have the quality cabinets, sinks, mirrors, countertops, and light fixtures you need to create a beautiful finished appearance.
Flooring: We install a wide variety of styles, colors, and textures of tile flooring for your bathroom, which will help you create a seamless design throughout the room.
Small bathrooms: If you're looking to remodel a small bathroom or powder room, we can help. The right vanity, flooring, and paint will completely transform the appearance of any small bathroom.
Upgrade your home with expert bathroom remodeling today
If you're ready to start your bathroom remodel, call your local home remodeling experts at Sutton's. We have a solution for all your remodeling needs, and we will give you a beautiful new bathroom that will last for years to come. Call or email us today to schedule a free bathroom evaluation and design consultation in Sherman, Springfield, Chatham, Auburn, Jacksonville, Rochester, Williamsville, Clinton, Taylorville, Hillsboro and nearby!
Looking for a price? Get a no cost, no obligation free estimate.